When:
2018-01-20T00:00:00+13:00
2018-01-21T00:00:00+13:00
Where:
Anahata Yoga Retreat
727 Bird Rd
Clifton 7183
New Zealand

Cost:
Whole Day $95, Evening only $25. Overnight Camping & Sun programme $45 extra
Contact:
Anahata Yoga Retreat
03 525 9887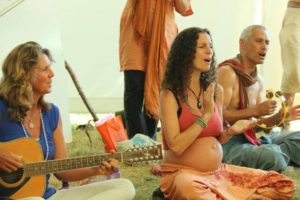 Join us for a Day of Soulful Music, Sound Yoga & Kirtan
Find out what Anahata is all about on this uplifting day of beautiful music, workshops, nourishing food and a 5 hour Akhanda Kirtan to finish.
The Bhakti Fest Celebration is part of the bigger 3 Day Sound Yoga Retreat (see our other listing for more details).
1 Day Bhakti Fest Celebration on Saturday 20th January 2018 10am-11.30pm
– Full day Event with lunch, afternoon tea and dinner included
– Hatha Yoga Sound Journey with Swami Karma Karuna
– Nada Yoga with Swami Kailash
– Sound and music workshops with Lis Martinac and Caitlin
– Fire Ceremony and Akhanda 5 hour kirtan
I day Bhakti Fest: $95 Please book ahead
There is also the option to join the evening program only.
Fire Ceremony and Akhanda 5 hour kirtan on Saturday evening 20th January 2018 6pm-11.30pm
Includes Havan (fire ceremony)and 5 hour Akhanda kirtan
Saturday evening option: $25 Please let us know you are coming beforehand.
Transport from Takaka & overnight camping also available. Please check our website for more details.