Product Love is a page to showcase and review my favourite things. If you have anything to share with the yoga, health and wellness community then let's chat!
You can contact me here or email me (jane AT theyogaconnection DOT co DOT nz) for further information.
Courage My Love

These gorgeous long-coveted Tribal Legskin Tights are my first piece of Courage My Love yoga clothing! (Couldn't resist the matching Crop Bra and Mesh Tank either.)
Proudly made in Christchurch with a quality guarantee, what I particularly love is that this label is made for ALL ages and ALL sizes (XXS – XXL). The comfort and fit is spot on and the options available are stunning!
NZ artists create original designs, each with a story of the creative journey involved. Click on image to take a look, choose your favourite(s) and use code TYC15 to get 15% off the cart (excludes products on sale).
Wicken Jewellery

I first came across Wicken Jewellery on Instagram (naturally) and met designer Kim at a pop-up shop in Ponsonby.
We talked through the gorgeous pieces on display but I was strongly drawn to this stunning Storm Nest ring, an onyx stone set in a sterling silver or red gold nest. I hinted pretty heavily and received the silver setting from my daughter for Mother's Day – subtle as a brick, me!
The onyx is a natural gem and is known as the stone of protection, something I feel each time I put it on. Kim's intent was that the wearer receives the strength to overcome any storm, a connection I love and appreciate.
Click on the link for more details and get 15% off with discount code YOGA!
Venus & Milo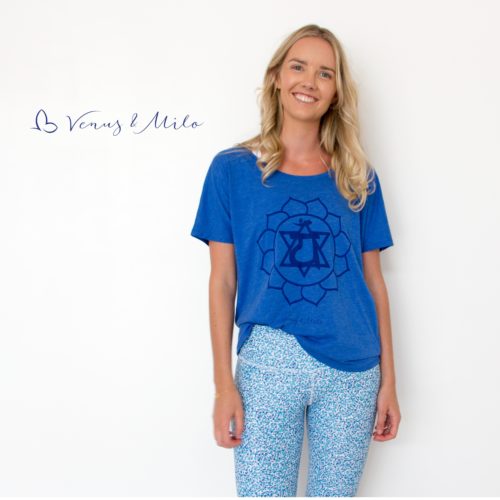 I came across Venus & Milo soon after the brand launched almost a year ago. Founder Lisa considers it a project of love, working closely with her niece Maddie, family and friends. Bringing together her love of yoga and fashion, the Venus & Milo name comes from Venus, the goddess of beauty and Milo, the ancient Greek Olympian.
The Kundalini range and leggings are ethically made in NZ, with the tees made of the softest, sustainable cotton from California. As with the other pieces I own, these gorgeous Teal Stardust Flow leggings fit like a glove and are incredibly comfortable. Good round the tummy area too, which is a biggie for me, not having to tug them up during class. And oh, my new Heart Chakra Tee! Soft, soft, soft! Love!
Check out these babies and the rest of the collection by clicking on the link or image. Receive a 10% discount of all items with our code VMTYC10!