Revive Festival NZ
January 2, 2021 @ 9:00 am

-

January 4, 2021 @ 3:00 pm

$2 – $149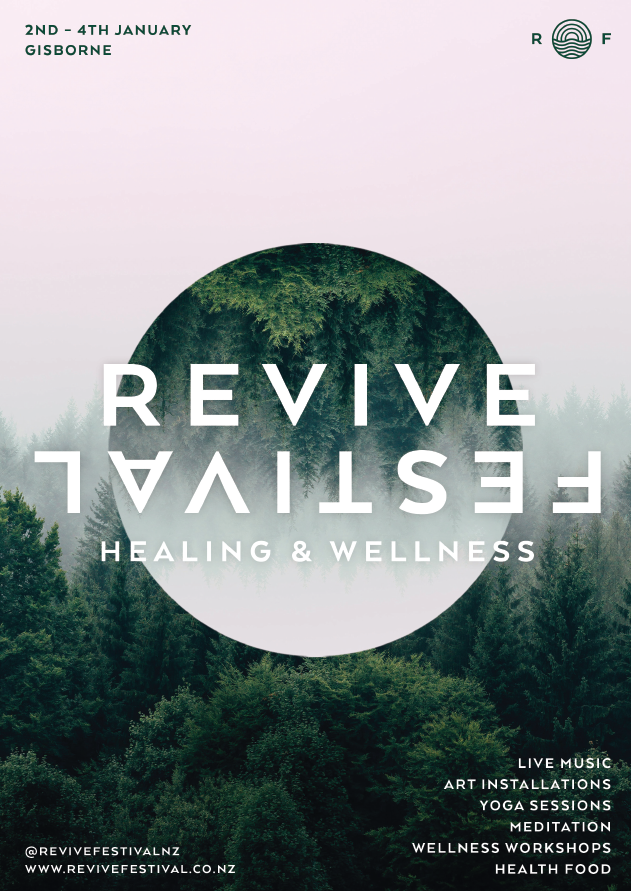 Revive Festival – Our Story
2021 premieres Revive Festival, the brainchild of two Gisborne based brothers Sam and Jock.
Revive is a two-night/three-day gathering located in Gisborne from Jan 2-4. Revive is not your regular summer festival as it aims to elevate its attendees as we transition into the new year through connection, healing, sobriety, holistic health, and music.
After having mini spiritual awakenings of their own set in motion by a yoga retreat and some other turning points – (add a detail or leave as is?) they both decided once and for all to action an old dream that lay dormant in their minds and hearts; to align with their soul mission of helping to improve the mental health of Kiwi communities, through making wellness and holistic health more mainstream and accessible.
They started with an idea of creating a festival where attendees can show up as they are, and gain useful lessons and experiences to either start or further a personal wellbeing journey.
Both Sam and Jock have lost friends to mental health in the past, and so this has been somewhat of a personal quest.
At the start of the year, they both left their jobs in geotechnical engineering with a rough plan and a strong drive to create the base of Revive's groundwork.
They spent the winter traveling New Zealand, living in a rooftop tent on Sam's Navara, starting in the North Island before taking the cook straight ferry to the South Island.
The aim of the trip was to create Revive's initial community by reaching out to experienced wellness teachers, instructors, speakers, and health advocates along the way and inviting them to collaborate with a common goal in mind.
As they traveled the road they visited every holistic health establishment they could find from organic produce stores to yoga studios, in order to establish connections with like-minded people across the country.
Now Sam and Jock are extremely excited to invite Aotearoa to immerse itself in three days of conscious celebration.
Revive sits somewhere in the midst of a wellness retreat, a music festival, and an all-encompassing experience into new depths of what it means to live a life full of joy, full of fun- present and connected.
Expect to be moved physically, emotionally, and spiritually with everything from live Kiwi music, art installations, yoga, meditation, breathwork, ecstatic dance, energy healing, wellness workshops, mental health advocates and speakers, women's and men's health ambassadors, and local whole food stores.
A vision of Revive is to change and deepen the way people connect with each other. To offer an opportunity to create experiences together in a beautiful setting, and from a space of sobriety and healing— to start the new year fresh, motivated, and driven.
A huge part of Revive's appeal is its native setting, located within New Zealand's bush and surrounded by some of our countries oldest trees, viognier grape vineyards, and enchanting woodland.
The property has a special rural character that provides a picturesque setting for the festival, which will be located amidst an idyllic landscape of lowland forest trees and quaint farmhouses.
So come as you are and leave inspired for more. Connect with yourself and connect with your tribe, and take away useful lessons and experiences to make your health and wellbeing journey easy, realistic, and enjoyable.
Additional Information
Live Music 🌲 Yoga 🌲 Meditation 🌲 Performing Arts 🌲Workshops 🌲 50+ Stalls 🌲 2 stages
༒ (2-nights/3-days camping): Early bird – $129 +booking fee / First-teir $149 +bf / Second-teir $169 +bf / Third-teir – $189 +bf
༒ Day pass: $67 + booking fee
༒ VIP Glamping available: 2 person twin Teepees $400 / Large 4 person Teepees $600 (These prices are additional to the ticket price)
༒Car Park Ticket (Camping) $30 —- Car Park Ticket (Day Pass) $10
༒Camping and Campervans included in the ticket price
༒ R16 Event
One of the newer wellness festivals coming to you following this new year in Gisborne; Revive invites people from Aotearoa to immerse themselves in three days of conscious celebration.
Find Website here: https://www.revivefestival.co.nz/
Related Events