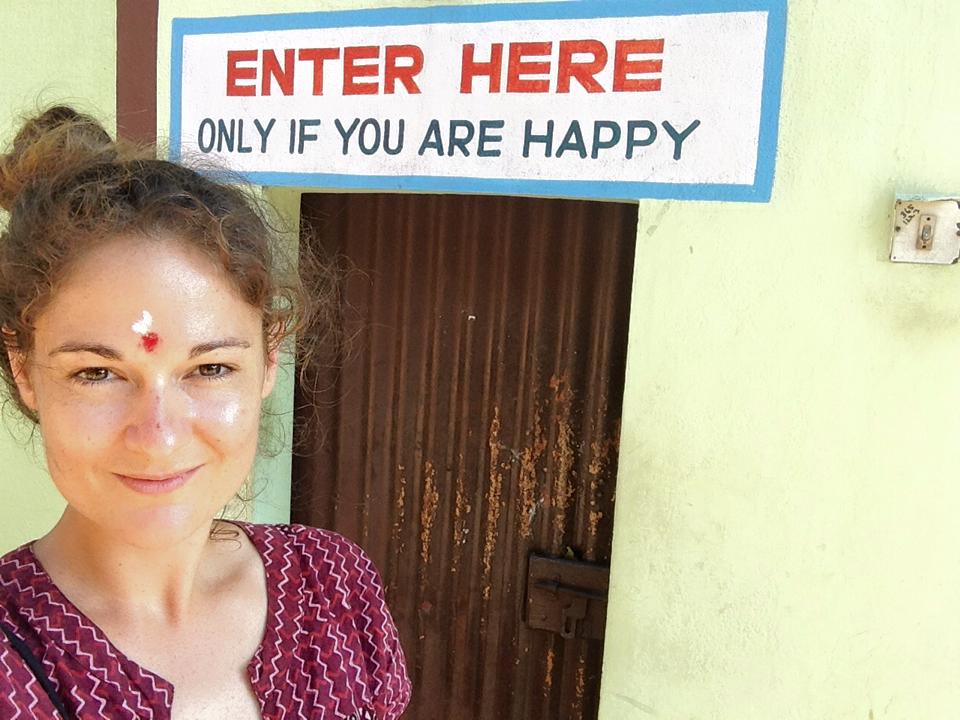 Name: Eridani Francis Milly Baker
Studio: Urban Ashram
Years teaching: 2
Years practicing: 32
Favourite yoga style: Jivamukti
What is Jivamukti Yoga?
It's a Vinyasa practice. In Jivamukti, yoga asana are presented in a flowing form, where intention and breath provide the linking mechanisms. Our intentions determine the end result of any sequence of actions; the breath helps to make our actions conscious. So by setting a high intention and through sincere and regular practice, Jivamukti helps the practitioner move toward yoga, union. This is the state of the Jivan Mukta – one who has become liberated from delusion by realizing the oneness of being.
What drew you to studying and now teaching this style of yoga?
I grew up part-time in a yoga studio. My godparents are teachers. They were always toing and froing between here and India and I eventually followed them. My initial yoga training isn't in Jivamukit; it's in Raja Yoga. I've studied it one way or another my whole life, and very seriously studied it for the last 10 years. I lived in India and studied in a Guru Kula setting (home of the teacher). I lived in Yogamaharishi Dr. Swami Gitananda Giri's Ashram just outside of Pondicherry. The wake up bell was rung at 4:30am every morning, sometimes it was my job to get up and walk around the ashram ringing it. I was dressed and at morning Aarti (ritual of worship) by 5am, then I had three hours of Asana practice, breakfast, two hours of Karma yoga, two hours of Pranayama, lunch, and study time. Afternoon Mantra class also marked the beginning of mauna (silence). The only words spoken were in Sanskrit or were related to study. We had lessons in Carnatic music, written and spoken Sanskrit, and then we had dinner – a simple thin soup, either tomato or corn, never anything else. In the evening we had Satsangha, the same rule of mauna applied. We finished satsang at around 10pm and went to bed in silence to do it all again the next day. That was my life for a year.
I came to the Jivamukti practice when I lived in London, and loved it because it is so grounded in where yoga comes from; it's grounded in India. The five tenants of Jivamukti are shastra (scripture); bhakti (devotion); ahimsa (kindness); nada (music) and dhyana (meditation). It is a practice that demands sincere dedication, it's also a practice that focuses on uplifting the lives of others, and that's what yoga is. That's what I'm drawn to. The best way to uplift our own lives is to do all we can to uplift the lives of others. In Patanjali's Yoga Sutra we find the following advice concerning the practice of asana; sthira sukham asanam (Y.S.II:46). This translates as: the asana – meaning connection to the earth should be steady, or sthira; and joyful, sukham.
The practical application of this concept can be stated as:
"The practice of Yoga Asana is the technique through which one develops a good relationship to the earth. Yoga philosophy reveals that for our relationship to all of creation to be steady and joyful, it must be mutually beneficial. Mother earth does not belong to us, we ultimately will not benefit by exploiting her for our shortsighted gain. How we treat the world around us, how we treat all beings, human and animal has a bearing on our own happiness as a member of the community of life." – Sharon Gannon and David Life (Jivamukti founders)
To answer simply, what drew me to studying and now teaching what I teach – I lived where I lived, and did what I did, and teaching is what naturally came next.
Favourite asana at the moment?
Baddha Kona Asana (Bound Angle) – In this pose we create a bound loop of energy at our base Chakra, Muladhara Chakra. This is Ganesh's domain; he is all about family and our place in the world, he's about base instincts and desires. In this pose we ground ourselves Atha, exactly here and exactly now, in all possible realms of here and now. And then we fold forward; forward folds are about looking at the past. Remember: we are practicing with a high intension. Therefore this pose is all about grounding ourselves, exactly here and now, and looking at the past, happily.
Favourite after-class snack?
Apples. I like apples.
What do you enjoy most about teaching?
I like most that it's a platform to share the allegory of where the poses sit within the stories, or how they work energetically. Virabhadra, for example, is a fierce incarnation of Shiva. In this story Virabhadra's consort is Sati. Sati's father is Daksha. He shows her a great disrespect that ends in Sati's death. Shiva stands up for Sati, slaying Daksha by decapitation. And then, in an act of compassion, brings him back to life with a new head (the head of a goat). In this story Daksha represents arrogance and ego, and Virabhadra is the higher self. Sati represents the things we must stand up for. The Virabhadra asanas' fills us with the energy that we need to stand up for what is right. And we all have the power [to] stand up, only sometimes we pretend we don't.
Do you have a before-class ritual?
Yes – I set an intention, and I have a wish for my students. In Jivamukti we have sort of a theme song, it's a Sanskrit sloka (prayer): Lokah Samastah Sukhino Bhavantu. It can be interpreted as "may all beings everywhere be happy and free, and may the thoughts words and actions of my own life contribute in some way to that happiness and to that freedom for all". Sanskrit is a magic language; it's kind of like casting a spell. When you say these words or make these sounds for someone else, you do more than just wish that for them. Somehow… because you have said it, it must be so.
When do you prefer to practice yourself?
Yoga is a 24/7 practice. But I like to do my Asana in the morning.
Who has influenced or inspired you most on your yoga journey so far?
I have a few answers for that! My godparents and my parents first. Then Ammaji and Dr Ananda who are my Gurus' in India. Then Emma Henry my, Jivamukti teacher and mentor. And most recently my friend Shoshana and my friend Aidee. They are Buddhists. But they are also yogi's… they just might not describe themselves that way. I also practice Nichiren Buddhism and they introduced me. More than anyone, they have taught me how to take my practice (Yogic and Buddhist) and make it the central aspect to all areas of my life.
What would be your dream project as a yoga teacher?
I'd like to teach adolescents. I did neuropsychology at university and was interested in the development of clinical methods for teenagers. Their brains just don't make sense! I think yoga could help them make sense of, or, find peace in a world that they find scary and confusing.
What do you love about your part of town?
Grey Lynn, Auckland – I've only been back in NZ for two years. And I'm so glad Grey Lynn exists. I love the RSA. I love Frida's. I have a pretty big soft spot for walking in Grey Lynn Park and sitting under the trees.[su_divider]
Thank you so much, Eridani!
Would you like to be a Featured Yogi? We'd love to know more about you! Or is there someone you'd like to nominate … another teacher, a stupendous student? Getting to know our fellow yogis creates connection. We like that. Get in touch here. [su_divider]
© The Yoga Connection 2017