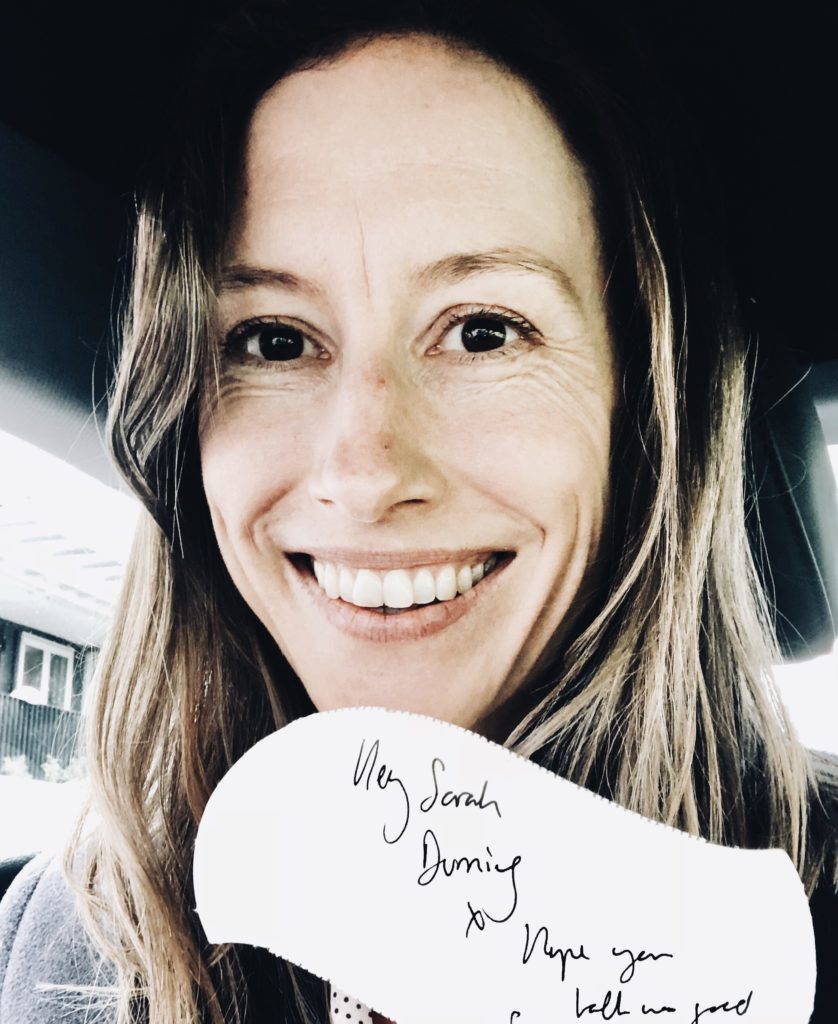 Name: Sarah Dunning
Studio: My online yoga studio! In person, I teach at schools and businesses and privately one-to-one. Also, for public classes I'm at BarreFigure for Yin Yoga and at Genesis Fitness for Vinyasa Flow and Stretch
Years teaching: 6
Years practicing: 11 or 12
Favourite yoga style: Yin and Restorative
Favourite time of the day to practice?
First thing in the morning. It's quiet and I'm more likely to fit it in. Also, it really sets a great tone for the day to feel like you've achieved something before even leaving the house.
Why did you decide to become a yoga teacher?
I initially trained as a teacher because I was curious to know more about the practice and to learn more about the philosophical components. You learn how to get out of your own way and make a few people smile each day.
What has been the most significant part of your yoga journey so far?
Can we agree that I'm still a work-in-progress, but it has helped me pause and consider my responses a bit more. In meditation circles there's this phrase of "respond rather than react". That's the practice and the goal.
Is there a book you think every student should read?
You'll find the right ones at the right time for you. Some options to consider: The Gifts of Imperfection – Brene Brown, The Four Agreements – Don Miguel Ruiz, Start Where You Are – Pema Chodron, Gretchen Rubin writes about habit formation and happiness so any of her books …. more here: http://www.breatherepeat.co.nz/resources.html
How important is the philosophy behind yoga in your teaching?
Incredibly important. But I don't talk about it directly in classes. I tell stories in class or weave in themes from psychology studies, and the traits that help shift one to become more lucky/positive/content. The themes are the same, but it's nice to adapt it for the world we're in. If there's a direct correlation to a yogic principle, I'll specify that, too, for let's give credit to those who figured it out first. But our Western minds like a little validation from science.
What would you hope every student takes away from one of your classes?
That they feel a little happier than when they came in.
Do you have a regular meditation practice?
Absolutely. I have several spots in the week when I sit down and practice. The easiest is definitely on a Wednesday after my two morning classes (6am and 7.30am) and I go to see a dear friend. We chat a little, have some green tea, and then set a timer and meditate together. Doing that makes it a pleasure. It's much harder to meditate solo, although that's an interesting and important part of developing one's own practice.
What has yoga brought to your life that you are especially grateful for?
Sanity.
Special meal or snack you love at the moment?
Well, veggie tacos. Always. But here's another good one:
Black Velvet Smoothie Bowl
1 apple
Blueberries (as many as you like)
1 cup water (add more as needed)
1 tsp green tea
3-4 leaves lacinato kale or spinach (can be frozen leaves)
Do this in a regular old blender. Just add ingredients as you go, allow it to blend, then add more…
What do you love about your part of NZ?
I was in the USA for 14 years, so there was a lot of time to miss and appreciate NZ. Now that I'm back, I love the clean air. I love the sound of the birds in the morning. I love the brightness of the light. I love the beach and how we have so much of it. The whole country has this, really. It's such a joy to live here.
---
Thank you so much, Sarah!
Would you like to be a Featured Yogi? We'd love to know more about you! Or is there someone you'd like to nominate … another teacher, a stupendous student? Getting to know our fellow yogis creates connection. We like that. Get in touch here.
---
© The Yoga Connection 2018