Art and Yoga, Like Brother and Sister – by Amos Mann
Leaf mandala, Amos Mann, 2020
Artist Amos Mann, in conjunction with Soma Yoga, joins us at The Yoga Connection to talk about his photographic art exhibition Image Object Meditations on now through till 13 September at A Y U Community Space, it's connections to yoga, and his meditative creative process:
Image Object Meditations is a series of artworks arising from a new creative process I've developed working from my studio and in the natural settings around my home at the beach at Paekākāriki on the Kāpiti coast.
Through close-looking, found objects in their natural setting become significant to me, and open to photographing with vintage film cameras. It might be a leaf, or a shell, or something made by humans that's impacting the environment. I then collect the objects and bring them back to the studio. Here, in the dark, I adopt a meditative approach. On a light table, I arrange the objects with their film negatives, creating physical compositions for re-photography and colour inversion processing.
The negative film image becomes a positive image, as you would expect. But now the physical found object appears in negative with brilliant colour opposites and inverted light and shadow tones.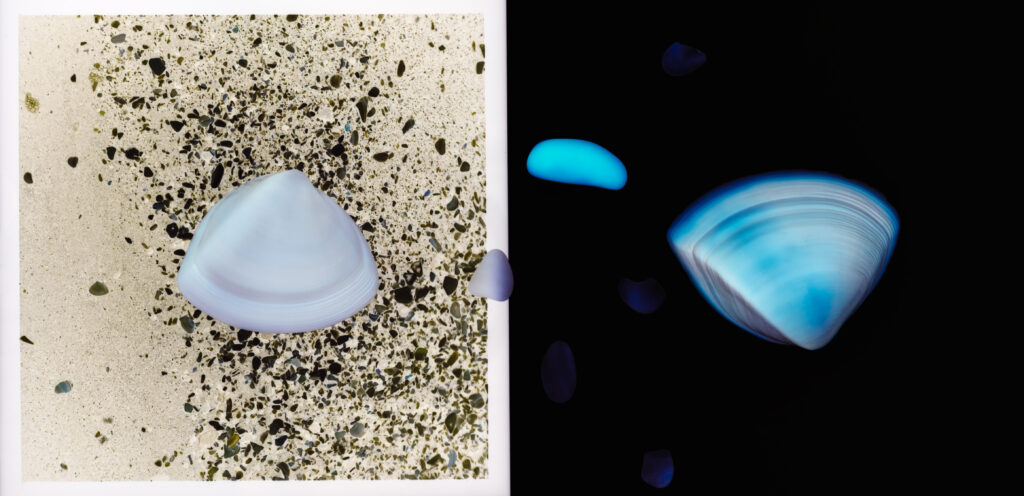 Kaikaikaroro, Amos Mann, 2020
Tensions and energies are drawn from paradoxes and dichotomies fundamental to perception: image versus object, real versus illusion, colour opposites, and paradigms of scale.
Sometimes I see these works as mandala or as a kind of Zen Buddhist koan, with valuable potential to be a focus when practicing meditation, providing opportunities for new ways of looking at the relationship things have with their image, and, potentially, revealing something about ourselves and the relationships we have with our own worlds of objects and images.
They're enigmas that reward your focused attention, just as they reward your aesthetic appreciation in the gallery or in your home.
The exhibition is being held at A Y U Community Space, a venue in the heart of Dunedin's vibrant warehouse precinct. And there's a family connection. My sister Jasmin Dingemans is co-founder of A Y U and her yoga practice Soma Yoga is based at the venue. A Y U have conferences, team away days, music, art exhibitions, regular yoga sessions, and a whole host of other ways for people to come together happen in this versatile community space.
Image Object Meditations exhibition of photographic art by Amos Mann. In A Y U Community Space, Ōtepoti Dunedin, Aotearoa New Zealand
I asked Jasmin about how she feels her students might respond to having the artworks around them while practicing yoga and meditation. Jasmin told me, "In Soma Yoga we practice having a mind-set of curiosity, to see what unfolds right in front of us in the moment. And so having these artworks as inspirational points to fix the gaze on while practicing can actually help in this process of discovery, or rediscovery."
Holding the exhibition at A Y U is a way for us to bring our practices together as siblings. Jasmin reflected, "It's all about connections for me. The meaning of the word yoga is 'union', and for me that's all about developing closer relationships – with ourselves, others, and the world around. In this way, my students have become part of my family and community. So, exhibiting your work, my brother's work in A Y U is a beautiful way of creating more union across family and community lines."
For me, this exhibition is a kind of offering to practice. I love that my sister and her students will be doing yoga and meditation while surrounded by the artworks. Now, their yoga practice will be found in the provenance of the art, the history. These artworks will forever be entwined with yoga.
Alongside the physical exhibition, people can view and purchase the limited edition prints at amosmann.com
Thank you, Amos!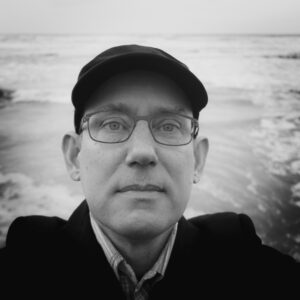 Amos Mann is a composer, photographic artist, and creative writer. He also works in museums, leading creative and technical teams to produce interactive and immersive experiences.
Jasmin Dingemans has been teaching yoga for 12 years. She is co-founder of A Y U Community Space and her yoga practice is Soma Yoga.
A Y U Community Space is an oasis of calm in the heart of Dunedin's vibrant warehouse precinct, 7 Crawford Street, Ōtepoti Dunedin.